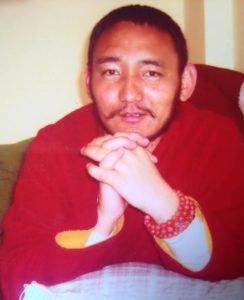 A former Tibetan political prisoner, who had been released last year after completing a four-year prison term, died yesterday at his home because local authorities barred him from seeking timely and proper medical care.
Choekyi, 43, died at around 3.35 pm local time on 7 May in Shosang village, Nyitod Township, Serthar (Ch: Seda) County, Kardze (Ch: Ganzi) Tibetan Autonomous Prefecture, Sichuan Province. He was a monk at Phugu Monastery.
Despite suffering from multiple health complications, local Chinese authorities denied him permission to seek treatment from a doctor in Lhasa city. Requests for permission to seek treatment in other hospitals in the neighbouring cities of Chengdu and Barkham were also rejected.
Choekyi's already poor health had deteriorated during his four-year imprisonment when he was kept under stricter conditions than other prisoners and was forced to do all kinds of prison labour. In October 2017, his condition had deteriorated to the point that the prison authorities had forbidden his family members from visiting him. Until then, his family had been allowed to meet him every month to deliver food and other essentials.
Choekyi was released on 18 January 2019 from Ra-nga-kha Prison in Minyak near Dhartsedo (Ch: Kangding) City. He had been charged of the vaguely worded criminal offence of "inciting separatism".
He was detained on 19 June 2015 for making T-shirts to celebrate the 80th birthday of His Holiness the Dalai Lama and for posting photos of the Tibetan spiritual leader on his personal WeChat account.
A day after his detention, his sister Kyinzom and nephew Drakpa were picked up for questioning and held in police custody for 15 days subjected to beatings.
The Tibetan Centre for Human Rights and Democracy (TCHRD) demands that Chinese authorities launch an independent and impartial investigation into the untimely death of Choekyi due to the denial of timely and proper medical care. Local Chinese officials responsible for blocking Choekyi from seeking medical care must be made accountable for their unlawful actions and penalised in accordance with domestic and international legal standards.