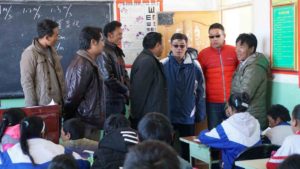 Coinciding with the opening of the new school semester this month, there is a noticeable surge in official media reports extolling the virtues of the 'Group Form' education aid program and highlighting stories of benevolent Han Chinese teachers acting more like fathers in making positive changes in the development of education in Tibet Autonomous Region (TAR).
'Group Form' education aid is one of the two major programs introduced by Chinese authorities to ostensibly "close the gap between Tibet's educational level and those in China." The other program is the long running 'Tibetan inland schools and classes' or neidiban that has been criticised by experts in the past for its assimilationist agenda and practice.
Introduced in 2016, the 'Group Form' education aid program replaced the previous system of scattered and short-term education aid and represents the Chinese government's long-term goal to cultivate the young generation of Tibetans that is patriotic and loyal to the Chinese Communist Party. The program requires teachers and educators from various Chinese cities and towns to spend three years to "support the [TAR]'s high-quality educational resources, concentrate on selecting and sending teachers to Tibet, and fostering proponents and successors in the cause of building of a socialist society that loves the party and patriotism," reported the Lhasa Daily News on 19 July.
According to Chinese state media, every year 800 inland teachers are divided into 20 groups and sent to 20 Tibetan primary and middle schools to boost local education. While the majority of them are mathematics, physics and chemistry teachers, there are others who control the 'moral and ideological education' courses and work as school principals and administrators.
The program traces its roots to the decisions taken at the Sixth Tibet Work Forum in August 2015 when president Xi Jinping emphasized that "changing the appearance of Tibet and Tibetan-inhabited areas fundamentally depends on education." In December of the same year, the Ministry of Education along with other ministries and commissions jointly issued the "Implementation Plan for the Work of Aiding Tibet in Group Education". In April 2016 'group form' education aid was officially launched. The first group of 800 teachers from 17 provinces and municipalities including Beijing, Shanghai, Hunan and others provided assistance at 20 primary and secondary schools in TAR.
The pilot project was implemented in Lhasa where three schools received assistance, with 195 teachers and 21 staff from China taking part in the project with an investment of 483 million yuan (approx. 70 million US$). Beijing City government was among the early participants in the Lhasa program.
In August 2017, Beijing city authorities expanded the program from Lhasa Beijing Experimental High School to simultaneously supporting Lhasa Beijing Experimental High School, Lhasa Beijing Middle School, Lhasa First Elementary School, Lhasa First Secondary Vocational Technical School, and four other vocational schools.
The program also involves sending 400 Tibetan teachers and school staff every year to Mainland Chinese schools for training in "curriculum design, interdisciplinary teaching and culture inheritance."
Since 2016, the Shanghai Municipal Education Commission has also dispatched a group of 40 teachers every year to support the Shigatse Shanghai Experimental School in Shigatse city. Their terms ranged from one to three years.
Since 2016, the principal of the Shigatse Shanghai Experimental School has been Fu Xin who was earlier the deputy principal of the high school attached to Shanghai Normal University. Fu is also the deputy director of the Shigatse City Education Bureau. Fu's three-year term ends in August this year.
State media reports claimed that Tibetan children at a welfare house in Shigatse "regard Fu and the other 39 Shanghai teachers as their Shanghai fathers."
Under an agreement signed between the China Welfare Institute Nursery and the Shigatse City government to "promote educational exchanges and the sharing of resources", Chinese trainers will guide the preschool education of Tibetan children below 6 years old by training managers and teachers from Shigatse nurseries and kindergartens. The China Welfare Institute Nursery is an early childhood education institution based in Shanghai with a long patriotic history and enjoys Chinese government patronage.
In Nyingtri (Ch: Linzhi) City, a group of 16 teachers has been sent every year to train and guide Tibetan teachers. In 2016, the first group of 16 teachers from Tsinghua University Attached Middle School, Beijing Normal University Attached Middle School, Nankai University Attached Middle School, Tianjin University Attached Middle School and Southwest University Attached Middle School arrived at Nyingtri No.2 High School to carry out education aid projects.