Tibetan woman Tsering Tso detained and intimidated for 'illegal' WeChat posts
The Tibetan Centre for Human Rights and Democracy (TCHRD) strongly condemns the detention and ill-treatment of Tsering Tso, a Tibetan woman known for her courage and conviction in exercising human rights to call for "democracy and rule of law" in Tibet. 
Tsering Tso was forcibly detained from her Xining home on the night of 12 November by 10 officers and taken to the Trikha (Ch: Guide) County detention centre. She was subsequently subjected to a 10-day administrative detention from 13 to 23 November and monetary fine of Yuan 1000. In addition to surviving only on steamed buns and boiled water during her detention, she was subjected to ill-treatment and intimidation which the detention officers hoped would make her give up her vocal advocacy for democracy and rule of law.
Speaking with an overseas media organisation, Tsering Tso had said that she had long been under surveillance partly because she is an alumnus of the "International Visitor Leadership Program", a professional exchange program initiated by the US State Department. On her return from the US, she had been blacklisted as "an individual who require special attention". Since then, she had received frequent summons, warnings and threats from the local police for some of her "ideas and actions". 
TCHRD believes that Tsering Tso was unjustly detained and now remains under surveillance due to her fearless advocacy for the ideals she believes in. She has been active in exposing the corrupt local officials in Qinghai that also brought her to the attention of local authorities. In 2017, when she advocated for the rights of local Tibetans to apply for passports in accordance with law in Yushu Tibetan Autonomous Prefecture, she was detained in the interrogation room of the Public Security Bureau (PSB) of Yushu Prefecture, where she was brutally beaten up by an officer named Jamga of the Immigration Administration Division of Yushu Prefecture PSB. Jamga kicked her on the head, face, chest, and abdomen. A medical test conducted by doctors from the provincial and prefectural PSB concluded that Tsering Tso did not suffer injuries despite objections from her husband and friends that her injuries were almost fatal and required hospitalisation.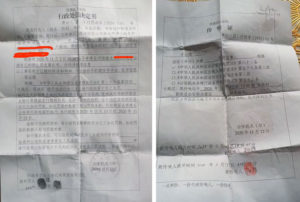 On 12 November, she was charged of violating the fourth category of illegal acts listed in Article 26 of the Law on the Public Order Administration Punishments Law (POAPL), which contains the unspecified "other provocative acts". While serving the sentence in the custody of Trikha County PSB, it was never explained to her what exactly constituted "stability-related" in her WeChat posts.
TCHRD calls for the immediate cessation of China's stability maintenance policy that is aimed at preserving the one-Party authoritarian system and neutralising any criticism or opposition. Under this policy, Tibetan human rights activists and other civil society actors are detained, tortured and disappeared for exercising basic human rights. The overriding importance of stability as a state policy is contradictory to the most fundamental human rights. China must end efforts to internationalise its concept of security as a 'fundamental human right' as a means to legitimize human rights violations and political repression in Tibet.    
Arbitrary arrests and detention is one of the pressing human rights issue that undermines the criminal justice system in China. Millions are incarcerated outside the formal criminal process without access to legal rights and punished for up to 15 days in jail at mercy to police discretion. Article 9 in the International Covenant on Civil and Political Rights (ICCPR) prescribes that "Anyone arrested or detained on a criminal charge shall be brought promptly before a judge or other officer authorized by law to exercise judicial power and shall be entitled to trial within a reasonable time or to release … Anyone who is deprived of his liberty by arrest or detention shall be entitled to take proceedings before court, in order that the court may decide without delay on the lawfulness of his detention and order his release if the detention is not lawful."
Detention without judicial review violates Article 14(3) of the ICCPR, which provides the right of administrative offenders to hire a lawyer: "In the determination of any criminal charge against him, everyone shall be entitled to the following minimum guarantees, in full equality… (d) To be tried in his presence, and to defend himself in person or through legal assistance of his own choosing; to be informed of this right if he does not have legal assistance; and to have legal assistance assigned to him, in any case where the interests of justice so require, and without payment by him in any such case if he does not have sufficient means to pay for it."
A citizen's liberty is clearly protected in Article 37 of the Chinese Constitution: "The freedom of the person of citizens of the People's Republic of China is inviolable. No citizen may be arrested except with the approval or by decision of a people's procuratorate or by decision of a people's court, and arrests must be made by a public security organ. Unlawful detention or deprivation or restriction of citizens' freedom of the person by other means is prohibited, and unlawful search of the person of citizens is prohibited."