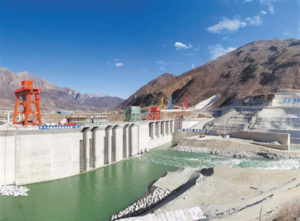 Chinese authorities announced the return of Chinese cadres and migrant workers to resume work at the Jiacha Hydropower Station that was put into operation during the 13th Five-Year Plan" (2016-2020) period. Located in Gyatsa County in Lhoka (Ch: Shannan) City, Tibet Autonomous Region, the Jiacha is one of the three hydro dams on the Yarlung Tsangpo including Dagu and Jiexu, which China's State Council announced in 2013 as part of its new Energy Development Plan.
Amid the coronavirus pandemic in early March this year, the Yajiang branch of the China Huaneng Group Company that was responsible for building the Jiacha hydropower station was sending a team of 24 Chinese employees to resume work at the hydropower station, reported the China Tibet Network on 19 March. The team travelled through Yunnan province, reached Markham (Ch: Ma'erkang) County in Chamdo (Ch: Changdu) City on 3 March, and finally arrived in Lhasa on 5 March.
Yajiang, known as Nyagchu in Tibetan, is a county located in Kardze (Ch: Ganzi) Tibetan Autonomous Prefecture, Sichuan Province, in the Tibetan province of Kham. Nyagchu is also the site of several known hydropower projects such as Yagen Hydropower Stations and Lenggu Hydropower Station.
On 9 February, a group of Chinese cadres and personnel arrived in Tibet by plane and subsequently returned to their posts at the hydropower station.
This was followed by the return of an unspecified number of Chinese migrant workers from Kunming (Yunnan) and Langzhong (Sichuan) via a high-speed train on 13 February to resume work at Jiacha. Yet another unspecified number of Chinese migrant workers travelling by train on 27 February from Ningqiang and Sanyuan in Shaanxi province similarly joined work at the hydropower station. The day after, on 28 February, more Chinese migrant workers followed suit travelling by train from Ledu (Qinghai), Guangyuan (Sichuan) and Hanzhong (Shaanxi).
There were others like the three Chinese migrant workers from Fushun, Sichuan who travelled by private vehicle on 1 March to resume work. Nine migrant workers from Panzhou (Guizhou province) and five from Emei (Sichuan) also travelled by car on 3 and 4 March respectively to resume work at Jiacha.
During the outbreak of the pandemic when almost all Chinese workers had left home, some local Tibetans had been temporarily hired to work on the construction site although their lowly paid unskilled position is evident from a Tibetan worker named Tashi Wangdu who had been working there for almost a month pouring wet concrete.
The Jiacha Hydropower Station has three units with a total installed capacity of 360000 kilowatts and total investment of 7.83 billion yuan. The first unit is planned to generate electricity in June 2020.
According to the International Rivers, the Huaneng Group has a poor environmental track record although it is China's largest and only national state-owned power generating company with a total electricity output of 537.6 billion kWh from an installed capacity of 113 GW. Its annual sustainable development reports published since 2006 "generally lack substance and detailed policies".