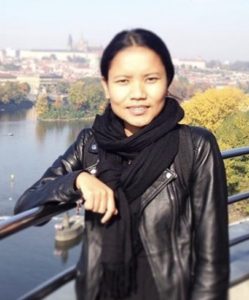 Dawa Dolma, a university student and Tibet activist, is our dissenting hero for this week, in a campaign that celebrates the steadfast resistance and inspiring defiance shown by Tibetan activists and human rights defenders in the face of oppression and injustices.
Dawa Dolma was born and raised in Ladakh, India. She is a political science graduate and her areas of focus include identity politics, climate change, and rise of populist movements around the world. She works as an independent researcher and freelance journalist in Leh. 
As a college student, she was detained for participating in protest marches for raising her voice "against the [Chinese Communist Party's] illegal invasion of Tibet, cultural and ethnic genocide of Tibetans inside Tibet and [other] non-Han ethnic and religious groups for more than 60 years under CCP's rule".
Dawa Dolma joins the #whyprotest campaign to call on China to immediately

· End policies and practices that are incompatible with international human rights standards on the right to peaceful assembly;

· Repeal policy of resorting to lethal force to suppress and detain peaceful protesters;

· Punish government officers responsible for arbitrary detention and torture of peaceful protesters;

· Ratify the International Covenant on Civil and Political Rights and International Convention on Enforced and Involuntary Disappearance;
·  Invite UN Special Rapporteur on the Rights to Freedom of Peaceful Assembly and of Association to assess the current state of freedom of peaceful assembly in Tibet
The #WhyProtest campaign, launched by TCHRD on 3 May to highlight freedom of expression, shines light on the brave and inspiring stories of peaceful Tibetan protesters that will tear through the cloak of coronavirus pandemic used by China to hide escalating repression and persecution of peaceful dissent in Tibet.

During the months leading up to this year's International Human Rights Day on 10 December, the campaign will feature messages of hope, inspiration, and defiance from 30 activists and human rights defenders.

Join the #WhyProtest Campaign by sharing our digital campaign messages on your timeline or your stories of defending the right to protest and why the freedom to dissent matters to you. If interested, write to Ms Tenzin Dawa for further information: tenzin.dawa@tchrd.org.