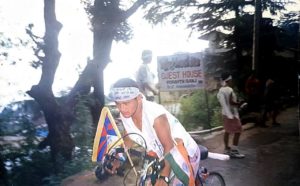 Kunga Dorjee, a human rights activist, is our dissenting hero of the week. He was a former member of the Regional Tibetan Youth Congress and the Tibetan local assembly in Dekyiling Tibetan settlement in Dehradun, India. As an activist, Dorjee has been at the forefront of numerous protests across India.
Kunga Dorjee recalls moments when people asked him if protesting really made a difference when one is confronting a big power like China " I always tell them it is making a big difference. It is through protests, we create political awareness not just for the general public but also to the international community. The most significant thing is that participating in these protests will keep our activism alive.
"By participating in protests, we will be able to pass the torch of activism to our children so that they understand why we go to protests."
Kunga Dorjee joins the #whyprotest campaign to call on China to immediately
· End policies and practices that are incompatible with international human rights standards on the right to peaceful assembly;
· Repeal policy of resorting to lethal force to suppress and detain peaceful protesters;
· Punish government officers responsible for arbitrary detention and torture of peaceful protesters;
· Ratify the International Covenant on Civil and Political Rights and International Convention on Enforced and Involuntary Disappearance;
·  Invite UN Special Rapporteur on the Rights to Freedom of Peaceful Assembly and of Association to assess the current state of freedom of peaceful assembly in Tibet
The #WhyProtest campaign, launched by TCHRD on 3 May to highlight freedom of expression, shines light on the brave and inspiring stories of peaceful Tibetan protesters that will tear through the cloak of coronavirus pandemic used by China to hide escalating repression and persecution of peaceful dissent in Tibet.
During the months leading up to this year's International Human Rights Day on 10 December, the campaign will feature messages of hope, inspiration, and defiance from 30 activists and human rights defenders.
Join the #WhyProtest Campaign by sharing our digital campaign messages on your timeline or your stories of defending the right to protest and why the freedom to dissent matters to you. If interested, write to Ms Tenzin Dawa for further information: tenzin.dawa@tchrd.org.