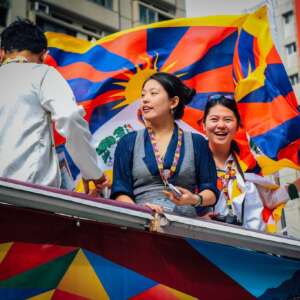 "In Tibet or in East Turkistan, we can see that a peaceful protest often leads to the disappearance of the protesters, they would get threatened, harassed, beaten, put into jail or just get killed, while none of the calls of the protest will be heard. And that's why there were so many fellow Tibetans who chose to burn themselves, and that's why many Uyghur brothers and sisters chose violence. Because nothing else works!"
Our #dissentinghero of the week, Penghsuan Lee, is the East Asia Coordinator for International Tibet Network. As a human rights activist, she has participated in a number of protests and advocacy movements.
In defence of the right to protest, Penghsuan cautions against falling into the 'trap of injustice" if we rely on a single, narrow standard to assess a movement.
"In many places, we are privileged enough to exercise our freedom of expression and right to protest freely and peacefully, we're protected by police and not being mistreated by them. And of course we should try our best, to keep our voices being heard while causing the least damage. But we should never take the tactics of a protest as the only standard of evaluating our movements.
"But still, it is dangerous to easily put the same standard on everyone, every movement in this world. Because in a place that is unjust to certain groups of people, or is basically a non-democratic and unfree society, the tactics people can use might be very, very limited."
Penghsuan Lee joins the #whyprotest campaign to call on China to immediately

· End policies and practices that are incompatible with international human rights standards on the right to peaceful assembly;

· Repeal policy of resorting to lethal force to suppress and detain peaceful protesters;

· Punish government officers responsible for arbitrary detention and torture of peaceful protesters;

· Ratify the International Covenant on Civil and Political Rights and International Convention on Enforced and Involuntary Disappearance;
·  Invite UN Special Rapporteur on the Rights to Freedom of Peaceful Assembly and of Association to assess the current state of freedom of peaceful assembly in Tibet

The #WhyProtest campaign, launched by TCHRD on 3 May to highlight freedom of expression, shines light on the brave and inspiring stories of peaceful Tibetan protesters that will tear through the cloak of coronavirus pandemic used by China to hide escalating repression and persecution of peaceful dissent in Tibet.

During the months leading up to this year's International Human Rights Day on 10 December, the campaign will feature messages of hope, inspiration, and defiance from 30 activists and human rights defenders.

Join the #WhyProtest Campaign by sharing our digital campaign messages on your timeline or your stories of defending the right to protest and why the freedom to dissent matters to you. If interested, write to Ms Tenzin Dawa for further information: tenzin.dawa@tchrd.org.