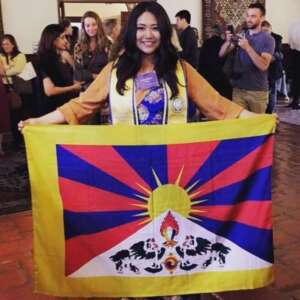 "I protest because I believe that when people come together, when entire communities come together, we can move mountains."
Our dissenting hero of the week, Tenzing Dolma, was just 13 when she joined hundreds and thousands of Tibetans and supporters from around the globe to protest the 2008 Beijing Olympics and realized the true power of protesting. 
"I protest because I believe that a free Tibet is possible," said Dolma, who is a former co-president and board member of the Students for a Free Tibet – West.
"For as long as I can remember, I have marched alongside my Tibetan brothers and sisters hand in hand calling out for justice, freedom and human rights in Tibet. 
"With so much senseless violence and oppression occurring in communities all around the world from the east to the west, it is imperative that now more than ever, we must stand united and protest not just because it is our moral obligation to those who came before us and those after us but it is also our duty as citizens of this world." 
Tenzing Dolma joins the #whyprotest campaign to call on China to immediately

· End policies and practices that are incompatible with international human rights standards on the right to peaceful assembly;

· Repeal policy of resorting to lethal force to suppress and detain peaceful protesters;

· Punish government officers responsible for arbitrary detention and torture of peaceful protesters;

· Ratify the International Covenant on Civil and Political Rights and International Convention on Enforced and Involuntary Disappearance;
·  Invite UN Special Rapporteur on the Rights to Freedom of Peaceful Assembly and of Association to assess the current state of freedom of peaceful assembly in Tibet

The #WhyProtest campaign, launched by TCHRD on 3 May to highlight freedom of expression, shines light on the brave and inspiring stories of peaceful Tibetan protesters that will tear through the cloak of coronavirus pandemic used by China to hide escalating repression and persecution of peaceful dissent in Tibet.

During the months leading up to this year's International Human Rights Day on 10 December, the campaign will feature messages of hope, inspiration, and defiance from 30 activists and human rights defenders.

Join the #WhyProtest Campaign by sharing our digital campaign messages on your timeline or your stories of defending the right to protest and why the freedom to dissent matters to you. If interested, write to Ms Tenzin Dawa for further information: tenzin.dawa@tchrd.org.