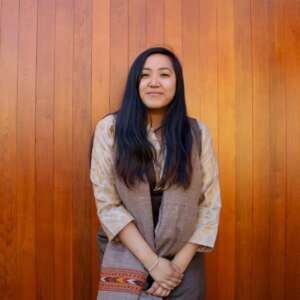 "I grew up largely in communities where not many people knew about Tibet or the situation in Tibet. I was only 13 years old when I walked into school one day and in our hallway, they had pasted up a newspaper article which was a front-page cover of the San Francisco golden gate banner hanging which read 'one world, one dream, free Tibet!' After that moment everyone at school, in the country, in the world was talking about Tibet.
"That was the moment I realised Martin Luther King Jr. quote that said "a riot is the language of the unheard" really held an important significance especially for Tibetans whose stories and plight have been so overshadowed because of CCP's economic power or geopolitical power in the region and the world."
Our Dissenting Hero of this week, Pema Dolma, is a Tibetan human rights activist born and raised in exile in New York City, US. She worked as a community organizer and trainer for a racial justice NGO in Cambridge, MA and interned at the US House of Representatives and US Senate before becoming the campaigns director at Students for free Tibet.
"The language rights protests carried out by Tibetans in Tibet touched me and motivated me thousands of miles away and that also reaffirmed my understanding and dedication to the Tibetan movement, in particular, using activism and protest as a way to further our movement and bring us closer to a world in which the people of Tibet have the rights that they deserve."
Pema Dolma joins the #whyprotest campaign to call on China to immediately
· End policies and practices that are incompatible with international human rights standards on the right to peaceful assembly;
· Repeal policy of resorting to lethal force to suppress and detain peaceful protesters;
· Punish government officers responsible for arbitrary detention and torture of peaceful protesters;
· Ratify the International Covenant on Civil and Political Rights and International Convention on Enforced and Involuntary Disappearance;
·  Invite UN Special Rapporteur on the Rights to Freedom of Peaceful Assembly and of Association to assess the current state of freedom of peaceful assembly in Tibet
The #WhyProtest campaign, launched by TCHRD on 3 May to highlight freedom of expression, shines light on the brave and inspiring stories of peaceful Tibetan protesters that will tear through the cloak of coronavirus pandemic used by China to hide escalating repression and persecution of peaceful dissent in Tibet.
During the months leading up to this year's International Human Rights Day on 10 December, the campaign will feature messages of hope, inspiration, and defiance from 30 activists and human rights defenders.
Join the #WhyProtest Campaign by sharing our digital campaign messages on your timeline or your stories of defending the right to protest and why the freedom to dissent matters to you. If interested, write to Ms Tenzin Dawa for further information: tenzin.dawa@tchrd.org.