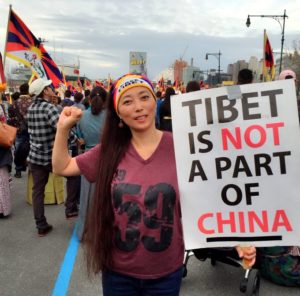 "Fighting for freedom and justice is my duty as a human being. Supporting Tibetans, Hong Kongers, Uighurs, Mongols, Macanese, and Taiwanese or anyone who is ruled and threatened by the Chinese communist dictatorship is my duty as a human being."
Our dissenting hero of this week, Rose Tang, is a Chinese born writer, artist and activist based in Brooklyn, US. Tang's activism stems from her survival from the 1989 Tiananmen Massacre.
"Just remember we are not born as activists. I was not born as an activist but we cannot afford to be silent not to fight. We cannot afford to give up. If we don't fight, humanity and planet earth will be destroyed. We have to speak up and care for each other and always remember nothing is permanent.
"We are on the right side of history. We will bring the tyrants and the cronies to justice. We will win but if we don't speak up, if we don't fight, we cannot expect others to fight for us. We have to fight together. The victory is ours."
Rose Tang joins the #whyprotest campaign to call on China to immediately
End policies and practices that are incompatible with international human rights standards on the right to peaceful assembly;

Repeal policy of resorting to lethal force to suppress and detain peaceful protesters;

Punish government officers responsible for arbitrary detention and torture of peaceful protesters;

Ratify the International Covenant on Civil and Political Rights and International Convention on Enforced and Involuntary Disappearance;

Invite UN Special Rapporteur on the Rights to Freedom of Peaceful Assembly and of Association to assess the current state of freedom of peaceful assembly in Tibet
The #WhyProtest campaign, launched by TCHRD on 3 May to highlight freedom of expression, shine light on the brave and inspiring stories of peaceful Tibetan protesters that will tear through the cloak of coronavirus pandemic used by China to hide escalating repression and persecution of peaceful dissent in Tibet.
During the months leading up to this year's International Human Rights Day on 10 December, the campaign will feature messages of hope, inspiration, and defiance from 30 activists and human rights defenders.
Join the #WhyProtest Campaign by sharing our digital campaign messages on your timeline or your stories of defending the right to protest and why the freedom to dissent matters to you. If interested, write to Ms Tenzin Dawa for further information: tenzin.dawa@tchrd.org.