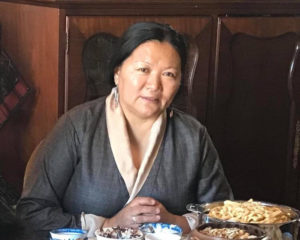 "Growing up, Tibetan National uprising day remains a very special day in my psyche. It not only reminded me of why our elders escaped into exile. They fought the fight there and they want to continue the fight in exile and as a young person there it also gave me a purpose in life, a country to fight for, a cause to fight for."
Our dissenting hero of this week, Tsering Yangkey, had worked as an activist for many years before she became an associate marriage and family therapist at the Child Therapy Institute in San Pablo, California, US.
"For us Tibetans, it's been more than 60 years and China is still tormenting our people, destroying our environment and we are still in that process of struggle and fighting for our cause but these days, in my this life stage when I see our people on 10 March in the streets of London, Paris, New York, New Delhi and in San Francisco, I also see some kind of catharsis, some kind of healing. I see people crying, shouting, singing, praying and then young and old marching together and I see active hope. I see young people taking their own agency in fighting for the homeland. Fighting for our cause.
"So this fundamental human right, our freedom of expression which is fully granted to those of us who are in exile in democratic countries may we continue to embrace this for our freedom struggle and may we continue to be a voice for our brothers and sisters in Tibet or still under China's brutal occupation. And in the end, I want to pray that may we use our protests as a safe space and give ourselves the permission to shed our big emotions that we are still holding and may it become a healing process for us as well."
Tsering Yangkey joins the #whyprotest campaign to call on China to immediately
End policies and practices that are incompatible with international human rights standards on the right to peaceful assembly;

Repeal policy of resorting to lethal force to suppress and detain peaceful protesters;

Punish government officers responsible for arbitrary detention and torture of peaceful protesters;

Ratify the International Covenant on Civil and Political Rights and International Convention on Enforced and Involuntary Disappearance;

Invite UN Special Rapporteur on the Rights to Freedom of Peaceful Assembly and of Association to assess the current state of freedom of peaceful assembly in Tibet
The #WhyProtest campaign, launched by TCHRD on 3 May to highlight freedom of expression, shines light on the brave and inspiring stories of peaceful Tibetan protesters that will tear through the cloak of coronavirus pandemic used by China to hide escalating repression and persecution of peaceful dissent in Tibet.
During the months leading up to this year's International Human Rights Day on 10 December, the campaign will feature messages of hope, inspiration, and defiance from 30 activists and human rights defenders.
Join the #WhyProtest Campaign by sharing our digital campaign messages on your timeline or your stories of defending the right to protest and why the freedom to dissent matters to you. If interested, write to Ms Tenzin Dawa for further information: tenzin.dawa@tchrd.org.