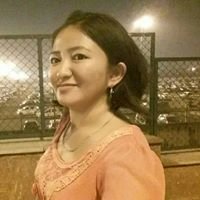 "Our lives begin to end the day we become silent about the things that matter."
Ms. Rinzin Choedon, Tibetan activist working as the National Director at the Students for a Free Tibet India, quotes Martin Luther King Jr. to underline the essential requirement of exercising conscience in the face of injustice and oppression.
Our dissenting hero for this week, Rinzin Choedon, a Tibetan refugee living in India, has been subjected to detention on various occasions for staging peaceful non-violent direct action protests against Chinese officials visiting India. Her most recent arrest was in October last year when she became the only female Tibetan detainee held at the time in the Chennai Central Jail.
The 15-day detention at Chennai Central Jail made her stronger and more determined than ever to work for the fight and the cause she believes in. "At the same time I realised whatever I was going through at that time was nothing compared to the experience of all those prisoners of conscience in Chinese prisons and who are going through all sorts of torture in camps and prisons."
" I will continue to fight for Tibet's freedom until Tibet is free and continue to exercise my right to protest and at the same time stand in solidarity with all those who are fighting the good fight in this world," said Rinzin.
The #WhyProtest campaign, launched by TCHRD on 3 May to highlight freedom of expression, shines light on the brave and inspiring stories of peaceful Tibetan protesters that will tear through the cloak of coronavirus pandemic used by China to hide escalating repression and persecution of peaceful dissent in Tibet.
During the months leading up to this year's International Human Rights Day on 10 December, the campaign will feature messages of hope, inspiration, and defiance from 30 activists and human rights defenders.
Rinzin Choedon joins the campaign to call on China to immediately
End policies and practices that are incompatible with international human rights standards on the right to peaceful assembly;
Repeal policy of resorting to lethal force to suppress and detain peaceful protesters;
Punish government officers responsible for arbitrary detention and torture of peaceful protesters;
Ratify the International Covenant on Civil and Political Rights and International Convention on Enforced and Involuntary Disappearance;
Invite UN Special Rapporteur on the Rights to Freedom of Peaceful Assembly and of Association to assess the current state of freedom of peaceful assembly in Tibet
Join the #WhyProtest Campaign by sharing our digital campaign messages on your timeline or your stories of defending the right to protest and why the freedom to dissent matters to you. If interested, write to Ms Tenzin Dawa for further information: tenzin.dawa@tchrd.org