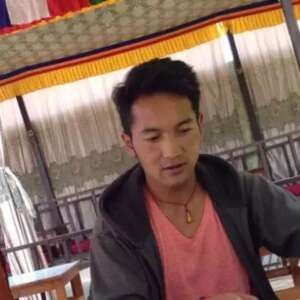 A Tibetan man was detained in a 're-education' facility for over a month after he was caught conversing on phone with his younger brother about the importance of teaching Tibetan to their children in Dingri (Ch: Tingri) County, Shigatse (Ch: Xigaze) City, Tibet Autonomous Region, in the Tibetan province of U-Tsang.
Tsering Dorjee, 45, resident of Peleb village in Tashi Zom Township, was detained on 20 February this year hours after the phone conversation with his younger brother, Wangdu Tsering who lives in exile. A police checkpost in Lhatse (Ch: Lazi) County, acting on an alert issued by the Dingri County Public Security Bureau (PSB), apprehended Dorjee while he was on his way to visit his daughter, who was studying at a boarding school in Lhatse.
"I had called my older brother that morning and we talked about how important it was to teach Tibetan language to our children. I told him if we didn't advise our children early on, they would learn only Chinese," Tsering, 29, told TCHRD.
The same evening, Tsering received a phone call from a relative informing him about the detention of Dorjee. "The detention officers told my brother that he was detained because he had maintained contact with outsiders and talked on phone about Tibetan language education for children. And that was a political crime."
The Lhatse police handed over Dorjee to the Dingri police. Dorjee's belongings particularly his phone were searched. He was detained for over a month at the Dingri County PSB detention centre and told, "It's not a prison but a re-education facility." Subjected to long interrogations and beatings, he was finally released with a warning that sharing his detention experience with others would result in severe consequences.
Brother-in-law detained
In July this year, Dorjee's brother-in-law, Phuntsok, was also detained for 20 days after his wife, Dawa Tsamchoe, was interrogated by the police for a phone conversation she had with her brother Tsering. Phuntsok was picked up from his home on the morning of 18 July, just two days after his return from a business trip to Lhasa.
On 30 June, Tsering had called his sister Tsamchoe to enquire about her wellbeing as she had left her home after marriage to live at her husband's home in a neighboring village. Days later, the police came to her house, asking about the phone conversation, before conducting a search of the house. The search resulted in the police confiscating some old religious scriptures and statues that were deemed illegal. The exact nature of these articles remains unknown. But it is illegal to keep teachings and statues related to the current Dalai Lama in Tibet. The police ordered Tsamchoe to inform as soon as her husband returned from Lhasa. Phuntsok had been away at the time working on a construction project there. It still remains unclear if Phuntsok was detained for keeping illegal religious objects or his wife maintained contacts with her brother in exile.
Persistent persecution
Wangdu Tsering lives in exile unable to return to his home or keep contacts with his family members and relatives. He fears for their safety if he made any more efforts to contact them. But he believes that the recent detention of his family members is related to the constant persecution he and his family face at the hands of Chinese authorities.
In September 2011, he had travelled to India with 14 other Tibetans from Dingri to attend the Kalachakra teachings given by His Holiness the Dalai Lama. He had heard that the 2012 Kalachakra teachings would possibly be the last by the Tibetan spiritual leader. In December that year, Chinese police in Dingri briefly detained his older brother Dorjee after he had received a phone call from Tsering who was in India at the time. The police warned of further punishment if Dorjee maintained contacts with his "separatist" brother, Tsering.
Later, Tsering's family of eight consisting of his brothers and parents were deprived of government welfare benefits and other subsidies. Initially, they were barred from travelling to the Dingri County town and Shigatse prefectural city without permission. Although the travel ban to the county town was lifted, they are still not allowed to travel to Shigatse and further to Lhasa.
The pressure on the family was so great that at one point when Tsering was stranded in India after being banned from returning to Tibet, Dorjee advised his younger brother not to attend a Tibetan school in India because the Chinese police would use that as a pretext to detain him. "They will think you have joined the separatists," Tsering quoted Dorjee as saying in one of their phone conversation. Tsering remembers ardently wishing to pursue his education now that he had opportunity to do but gave up in the face of further persecution of his family.
Same crime as murder
Tsering's attempt to return to Tibet in April 2012 resulted in more than four months of detention including a week of solitary confinement by Chinese border police. Four persons out of 15 in their group, who had left earlier for Tibet, had also been imprisoned for three months at Nyari Prison in Shigatse only because they had attended the Dalai Lama's teachings. They were not even carrying Dalai Lama's photos as Tsering did on his return home.
In late April, he and 10 other Tibetans from Dingri were detained at the Nangpa La Pass near the Everest Base Camp at the Tibet-Nepal border. The group had in their possession photos of Dalai Lama and some DVDs that contained his teachings. They were taken to a military camp on the other side of the mountain where they were kept for a week in handcuffs and made to stand on a small wooden plank in thin clothing in the snow.
The Chinese border police demanded to know why Tsering and others had left for Dalai Lama's teachings and accused them of being "separatists" and "Dalai's running dogs", all the while beating them with rods. "Do you know you have committed the same crime as killing someone by smuggling in Dalai Lama's photos and his teachings?" Tsering remembers one of the officers shouting at them. Tsering and the others survived on a limited diet of stale tsampa (roasted barley flour) supplied by the officers.
The border police then handed them to the Dingri County PSB that detained them for about 20 days. The Dingri County police again subjected Tsering and others to severe interrogation and beatings. The police withheld food for prolonged periods to force the group to confess. "Unable to bear the hunger, we begged them to feed us with our own money," Tsering said. They finally managed to obtain some instant noodles and hot water.
One of the worst tortures the group suffered occurred at Nyari Prison where they had been transferred by the Dingri County PSB. They were imprisoned and tortured at this prison for about three months. On numerous occasions, Tsering was made to strip to his underwear and stand for prolonged periods in handcuffs while the prison officials beat him with electric batons and taunted him for being the "running dog of the Dalai and the separatists" and for committing political crimes. "The prison officials also rebuked us that as the younger-generation residents of the Tibetan border areas, we had greater responsibilities to stop these so-called crimes," Tsering told TCHRD. They were fed small amounts of stale tsampas and black tea for breakfast, boiled radish for lunch and watery radish soup for dinner. Two persons occupied each of the tiny, dilapidated cells.
The family members of the group were kept in the dark about the detention of their loved ones. When they finally learned about their whereabouts, it was too late. The Nyari Prison authorities had handed them over to the Chinese border police at Dram in Nyalam County. The decision had been taken to deport them from Tibet. Before handing them over to Nepal border police at Tatopani, the Dram border police confiscated their citizenship ID and regional ID such as Shen Feng Teng ordered not to return to Tibet. But one of the Tibetans in the group knew Nepalese and quickly told the Nepal border police that they were in fact Tibetans and not Nepalese and that they had wives and children back in Tibet. This made the Nepal border police suspicious and they refused to take them.
This incensed the Chinese border police who then took the group back to Nyari Prison where they were imprisoned in solitary confinement with damp and leaky walls for almost a week. They were fed nothing but one bhaklep (flattened bread) everyday.
When the week ended, they were again taken back to Dram and this time the Chinese border police paid their Nepalese counterparts a hefty amount to take the Tibetans. "I don't know how much they paid them but I saw a thick wad of cash changing hands," Tsering said. "I remember we begged the Chinese border police – there were about eight of them – not to deport us because if we couldn't return to our own homes, where could we go? To this, one of the officers retorted that we should ask Dalai Lama."
As they crossed the border into Nepal, the Nepal border police immediately transferred them into the custody of the Department of Immigration. It took the UN refugee agency UNHCR and the Human Rights Organisation in Nepal (HURON) four days to release them. Following their release on 30 August 2012, the group received temporary shelter at the Tibetan Reception Centre in Kathmandu. They were later sent to the exile Tibetan capital Dharamsala in India. Even then, Tsering hoped that this would be a temporary arrangement and he could one day return home to Tibet. It has been seven years since and he is unsure if he will ever manage to return.