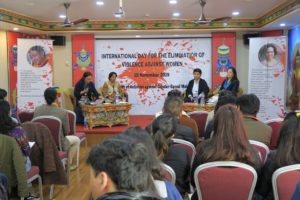 The Tibetan Centre for Human Rights and Democracy (TCHRD) launched the 16 Days of Activism against Gender-Based Violence at a ceremony held on 25 November in Dharamsala, India.
The 16 days campaign will be held from 25 November, the International Day of Elimination of Violence against Women to 10 December, the Human Rights Day. 
Each day of the 16-day campaign will feature a new mini-documentary on a Tibetan girl or woman's encounter with gender-based violence (GBV). Shot in the exiled Tibetan community in India, these films highlight gender inequality as a contributing factor to violence against women and aim to encourage more women to break the silence surrounding GBV crimes.  
The ceremony opened with a video message from His Holiness the Sakya Trichen, one of the preeminent masters of Tibetan Buddhism, on the importance of cultivating a compassionate heart and attitude in ending violence against women and girls. This was followed by a video testimony from Ms Kunsang Dolma, the face of this campaign, who had shared her story in the book, 'A Thousand White Stones: An Ordinary Tibetan's Extraordinary Journey'.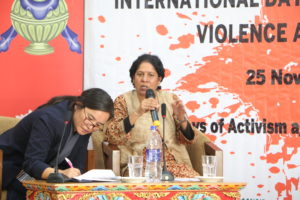 The chief guest at the event was Ms Rajni Vyas, the mayor of Dharamsala town, who has worked for more than 15 years on women's rights and gender equality as an activist and as a government official. Ms Vyas called for widespread public engagement on the issue calling violence against girls and women a "deeply embedded social problem" the eradication of which requires transformation in thoughts and attitudes. She pointed out that GBV crimes occur in all communities and cultures and that the targets are predominantly girls and women irrespective of their socio-economic backgrounds. She called for girls and women to be given equal rights and opportunities to flourish and excel in what they choose to do with their lives. Ms Vyas announced that her office is supporting the Central Tibetan Administration in establishing a women's helpline.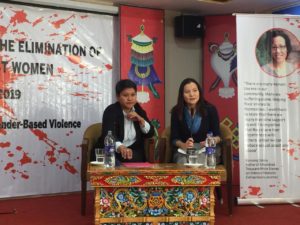 The event featured presentations from TCHRD researcher Ms Tenzin Dawa who along with videographer Mr Tenzin Phuljung had travelled to eight Tibetan refugee settlements in north India in September this year to collect video testimonies of GBV survivors. Ms Dawa recounted the specific challenges the duo faced in recording the testimonies and the ways through which they managed to gain the trust of the survivors in sharing their stories. She underlined the importance of not just awareness activities but also an effective system of redressal mechanism along with appropriate rehabilitation of survivors to eliminate GBV crimes in the Tibetan community.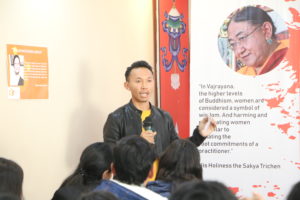 As a male witness recording the stories of GBV survivors, Mr Phuljung shared how the experience changed the way he viewed the issue of violence against women and that there was much work that needed to be done. "The scale and extent of this problem is confounding, as I found when meeting the survivors and listening to their stories!" He pointed out the nagging sense of fear among a section of the male population that a campaign to end violence against women would alter the traditional power dynamics between men and women. "Soon we would be forced to make our way to the kitchen!" he remembered being told by some of his male friends when they learned he was working on this project. The fear was also perceptible among female survivors several of whom decided to withdraw their testimonies because they did not want to "jeopardize the name and position of my husband", as one survivor told Mr Phuljung. He urged more survivors to come forward and share their stories so that the perpetrators are held accountable.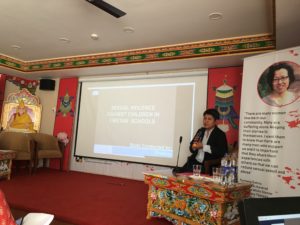 The guest speaker Ms Tenzin Pelyoun, gender activist and co-founder of Drokmo, presented a study conducted by her organisation on the prevalence of sexual violence in Tibetan refugee schools. The study was based on the survey carried out among 401 students in five Tibetan schools in northeast India. It revealed that 151 students had admitted to facing incidents of sexual violence such as molestation, harassment, and rape. Out of which, 75 percent said they knew the perpetrators. Only 5 percent responded that they were open to sharing their experiences of sexual violence with the school authorities. This, Pelyoun noted, underscores the need to put a mechanism in the school system so that students can feel secure and get support from the school authorities in the future. She discussed in detail the harmful practices of specific gender roles and traits, and how they dehumanise both men and women. 
Ms Pelyoun and Ms Dawa later took questions from the audience, which led to a wide-ranging discussion on holding perpetrators of GBV crimes to account; breaking the social stigma attached to GBV issues; reaching out to survivors in remote settlements, and effectively implementing the available legal measures to combat GBV and child sexual abuse.  
About 50 guests that included representatives from the media, civil society, and other exile Tibetan institutions took part in the event. The participants wrote down personal pledges to end GBV crimes in their everyday lives. One message read: "It's time to redefine what it means to be a "good" man and a "good" woman. Let's envision a strong, loving, compassionate and inclusive ideal for all human beings!"